Microblading – Taking you Through the Procedure Step-By-Step
Curious about the microblading process? We've got the answers you're looking for.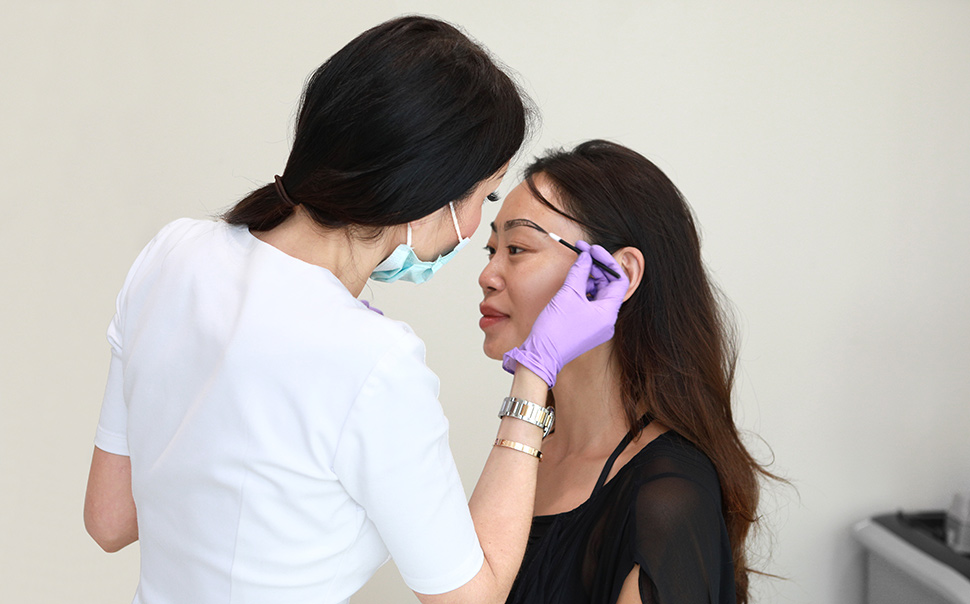 Microblading is an exciting, yet somewhat nerve-racking experience. But, don't worry. The Eye Design staff is here to help you. Whether it's your first time or your fifth, we'd be happy to give you a step-by-step walk through of the process, so you'll know exactly what to expect before, during, and after your procedure.
First things first, you'll need to fill out a little bit of paperwork – don't worry, it's not too strenuous. Our front desk staff will provide you with a pre-screening questionnaire that you can quickly fill out in our gorgeous Fifth Avenue studio lobby.
Then, you'll have a chance to meet with your technician to chat about any questions or concerns you may have. You'll also go over what you want your new eyebrows to look like, including their color, shape, and thickness.
The Consultation
Once your technician sketches an outline of your dream brows using our unique symmetry formula, you'll be able to agree, disagree, or change the design. As soon as you and your technician agree on one design, all you need to do is lay back and relax.
The technician will then apply a light, topical anesthetic that will numb your eyebrows. We do this to ensure that the procedure goes as smoothly and as comfortably as possible.
Using the Fitzpatrick Scale (a numerical scale that estimates your skin's response to ultraviolet light) and skin undertone, your technician will choose a color that suits your hair and skin color. Our house-made pigments were designed with each client's skin and hair color in mind, ranging from Espresso to Caramel to Ivory.
The Procedure
Okay, now you're all set to begin the microblading process!
The microblading process begins with the technician manually drawing an outline of the brow design you chose with a special microblading pen. Your tech will work from the outside in, until the outline is completed. Your artist will apply the pigment just below the epidermis, making fine and natural looking hair strokes. This process can take one-and-a-half to three hours.
Then, viola! You will have finished your first microblading session. Your tech will then apply an antibacterial ointment to prevent bacteria or infection. You should expect the area to be tender following the procedure. This will only last three to four hours, and is completely normal.
The microblading process cannot be finished in one session. It's recommended that you come back at least one month after your first appointment to complete your brows.
The front desk will ask that you schedule a follow-up appointment. They'll also provide you with an aftercare card with detailed instructions on how to properly care for your newly micro-bladed brows.
If you have any post-procedure questions, the Eye Design staff is available seven days a week by phone during regular business hours (Eastern Standard Time) at: 917-300-0317 We're also available by email at This email address is being protected from spambots. You need JavaScript enabled to view it.
Our services: EYELASH EXTENSIONS MICROBLADING PERMANENT MAKEUP